QUANTUM QUESTING AND MORE


This year's Psychic Questing Weekender is about quantum questing - understanding what happens in psychic questing using the theory of quantum science. Quantum might sound a scary word, but all it implies is that which underlies the structure of matter, energy and information, and how this is affected by the process of consciousness.
Quantum is behind everything from telepathy to remote viewing, clairvoyance, clairaudience, results magic, past lives, psychometry, artefact retrieval, and communication with spirits and UFO intelligences. It might also explain Rupert Sheldrake's idea of a morphogenetic field behind rapid changes in evolution, and even contact with trans-dimensional intelligences and distant stars.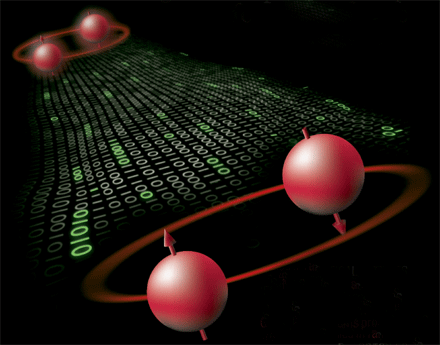 Quantum entanglement courtesy of Ravi's Blog
The key to quantum questing is entanglement, or non-locality, "spooky action at a distance" as Albert Einstein called it. And entanglement is no mere theory. Today there exist quantum computers that utilise the principles of entanglement. They are so sensitive that no one can see them working, otherwise it will affect the results of any problem being solved. If this is not getting to the root of the paranormal, then I don't know what is.
I will tell you how to adopt a quantum approach to life, where you will quite literally see the world through different eyes.

The Created Casket
By way of exploring the mechanics of quantum questing, we explore the decade and a half of work that I have undertaken in the company of esoteric book dealer and psychic extraordinaire Richard Ward. Working also with my wife Sue Collins, this has involved the psychic retrieval of a number of puzzling artefacts.
I shall start the proceedings by telling the story of the discovery of a small brass box with four angel heads in relief on its lid. This strange artefact was retrieved from Danbury churchyard, Essex, in 2002 under the most mysterious of circumstances.
Not only was the box's discovery predicted by psychic means, but its very existence and description were created by us beforehand. Such a thing is impossible to understand using the standard laws of physics, although evoke entanglement, higher dimensions and a little warping of reality and anything becomes possible.
This will set the scene for a weekend that will amaze and enthral.

Rennes-le-Chateau Revelations

Aerial pic of Rennes-le-Chateau, courtesy spiritualholidays.com
Among the many quests explored will be the story behind our team's pursuit of the Holy Grail in 2001-2002, the story featured in my book Twenty-first Century Grail, published in 2004. This provided a pretty realistic view of our questing activities at the time, but where the book ends the quest really got started.
| | |
| --- | --- |
| It ends in Rennes-le-Chateau in southern France where we decipher medieval clues to a mystery never before explored by researchers in this field involving the burial in the fourteenth century of the head of St John the Baptist, arguably one of the greatest treasures of the Knight Templar. It throws an entirely different perspective on the Rennes-le-Chateau mystery, and makes sense of an awful lots of disparate ends left unanswering. | Twenty-first Century Grail (2004) |

The Book of the Gates of Knowledge
Also featured on the Saturday will be the Herefordshire Rings Quest and Fool Sketch of 1996-97 (ever heard the one about me putting my underpants on my head in The Bridge Inn, Kentchurch). It features an enigmatic trickster figure of folklore named Jack o'Kent, as well as an incredible visit to John Dee's home in Wales and a bizarre church on the Island of Anglesey in search of the lost secrets of the alchemists.
Nathan of Gaza (1643-1680)
The quest also involves the strange story of how Nathan of Gaza, a seventeenth century prophet, theologian and cabbalist, came to be our spirit guide, and how we found ourselves on a quest to locate a book supposedly written by him called the Sepher ha-Sha'are ha-Daath, "the Book of the Gates of Knowledge". It also involves a strange meeting with someone, who was creating the story of our quest, even though he knew nothing of our quest! It's a weird tale that only makes sense using the concept of entanglement.


Richard Ward
On top of this, Richard Ward will introduce his own world of psychic questing: how he got into the subject, his first ever questing work, and what the subject means to him today.

Double Artefact Retriveal

On top of this, attendees can take part in a double artefact retrieval in the darkness on the Saturday evening. Two magically charged artefacts will be deposited inside Avebury's henge, and all you need to do is use your psychic skills to find them. So make sure you bring a flashlight and some warm clothes!

Psychic Questing Take Over

On the Sunday we have something different. We are inviting regular participants of the Psychic Questing Weekender to deliver their own mini talk on some aspect of psychic questing. It can anything from its philosophy, mechanics, results, or way forward.
If you want to give a talk apply by email to Andrew via andrewcollins.com, giving a brief outline of the proposed talk, which in theory should last around 15 minutes in length.
So far those confirmed to talk include:
| | |
| --- | --- |
| Simon Nugent, the webmaster of psychicquesting.com, which has been flying the flag for psychic questing for the past 10 years. He will deliver a talk called "The Trickster & Psychic Questing", which will feature the archetype of the trickster archetype both as a character, godform and archetype, showing his links with Hermes, the | Simon Nugent |
paranormal, ufology; quantum theory, and how all these can be applied to successful psychic questing pursuits. He investigates whether the power of the Trickster can be harnessed to produce dramatic results within a questing context.
After graduating in Psychology from University College Dublin, Simon was well on his way to becoming a Jungian analyst. Then the Trickster intervened and he now runs a software company and the psychicQuesting.com website.


| | |
| --- | --- |
| Richard Andrews | Richard Andrews, a regular attendee of the Psychic Questing Weekender, looks at the the subject's theoretical framework. He takes a systematic approach to "magical technology", which has evolved out of his own questing experiences. Richard will introduce a theoretical model applicable to questing activity, developed alongside his questing |
experience, based on an adaptation of environmental psychology, and drawing upon the work of Andrew Collins, Tom Graves, Peter Carroll, Lionel Snell, Gareth Knight, Michael Harner and Paul Devereux amongst others.

Richard Andrews has studied environmental psychology and heritageinterpretation at postgraduate level, and has been on a solo quest for many years, an account of which he intends to publish soon (although he's been saying that for almost as many years).
| | | |
| --- | --- | --- |
| | There will also be short talks from psychic questing stalwarts Caroline Wise, on the impact of apports (objects emerging out of thin air) to psychic quests, and Paul Weston, author of essential questing volume Avalonian Aeon and other books. | |

Panel Debate
Afterwards we shall also have a panel debate with some familiar faces from psychic questing, plus the speakers of the day, who will debate where psychic questing goes from here.

Site Visit
Then, finally, on the Sunday afternoon we shall visit a place of ancient power locally. Last year it was the Devil's Den dolmen on Preschute Down, a memorable experience for all. This year it will be another great site in the Avebury landscape.

* All Sold Out *

Weekend tickets are £25 per person.* This includes parking for both days. Registration is available online either via secure credit card transaction and PayPal by going to andrewcollins.com, or you can make a secure Payvment payment via the Andrew Collins and Psychic Questing Weekender Facebook pages. Or if you would like to pay by cheque, send the required amount in GB sterling only to Psychic Questing Weekender, PO Box 3242, Marlborough, Wiltshire SN8 1UZ. Cheques should be made payable to "Psychic Questing Conference".
Please note that no refunds can be given inside 14 days of the event, and cancellations might well be subject to charges incurred through payment processing either via credit card or PayPal.

* Sorry no concessions.