May 19-22, 2017. Andrew will also be appearing at the Contact in the Desert event between May 19-22, 2017, Joshua Tree Retreat Center, Joshua Tree, CA. Other speakers include Graham Hancock, Jacques Vallee, Robert Schoch, Erich
von Däniken, Giorgio Tsoukalos, David Wilcock, Dr Steven Greer, Michael Tellinger, Whitley Strieber, Nick Pope, Brien Foerster, Jimmy Church, George Noorey, the presenter of the Coast-to-Coast AM radio show.
May/June 2017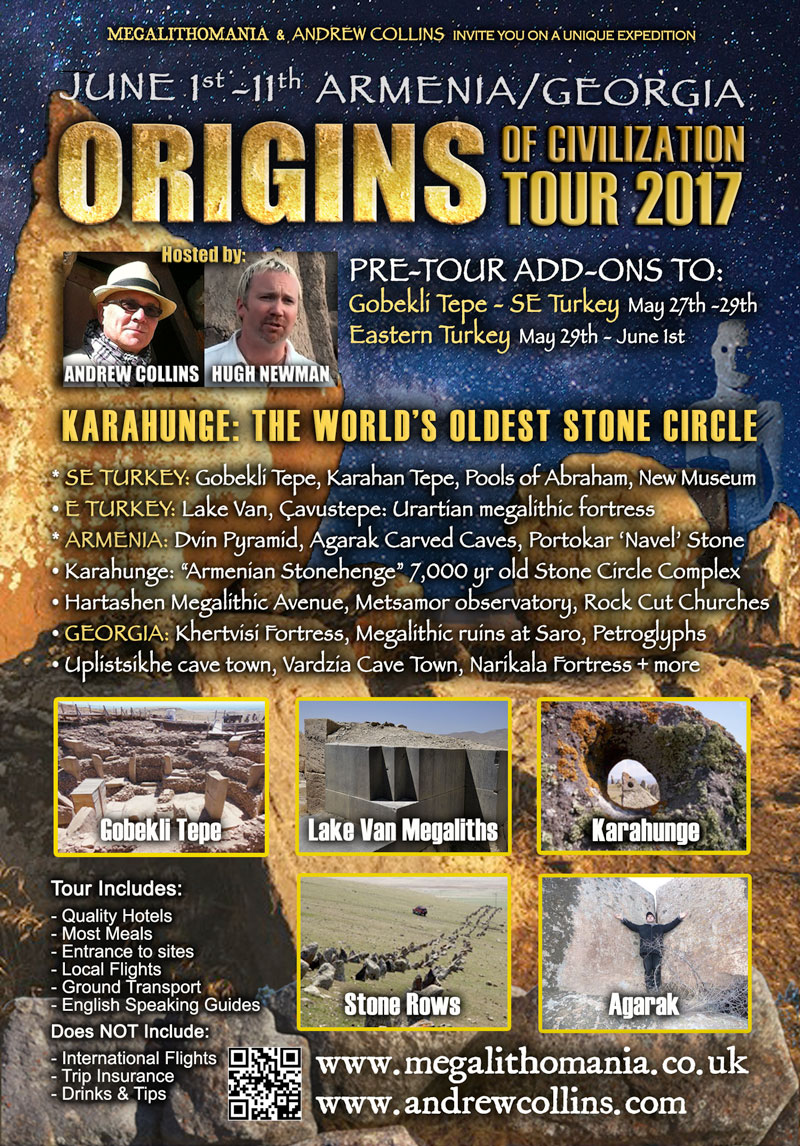 Tour Expedition to Armenia and Georgia
June 1st to June 11th 2017 Hugh Newman and Andrew Collins embark on a tour of Armenia and Georgia (with add ons to Gobekli Tepe and eastern Turkey, May 29-June 1st), which will explore the prehistoric, ancient and most sacred places of these countries.
Among the sites to be visited in Armenia are the Dvin pyramid, Agarak carved caves, Portasar "Naval" Stone, Karahunj "Armenia's Stonehenge," Hartashen megalithic avenue, Metsamor observatory and various rock cut churches. In Georgia we visit the Khervisi Fortress, megalithic ruins at Saro, Uplistsikhe cave town, Vardzia cave town, Narikala Fortress, and various other sites as well.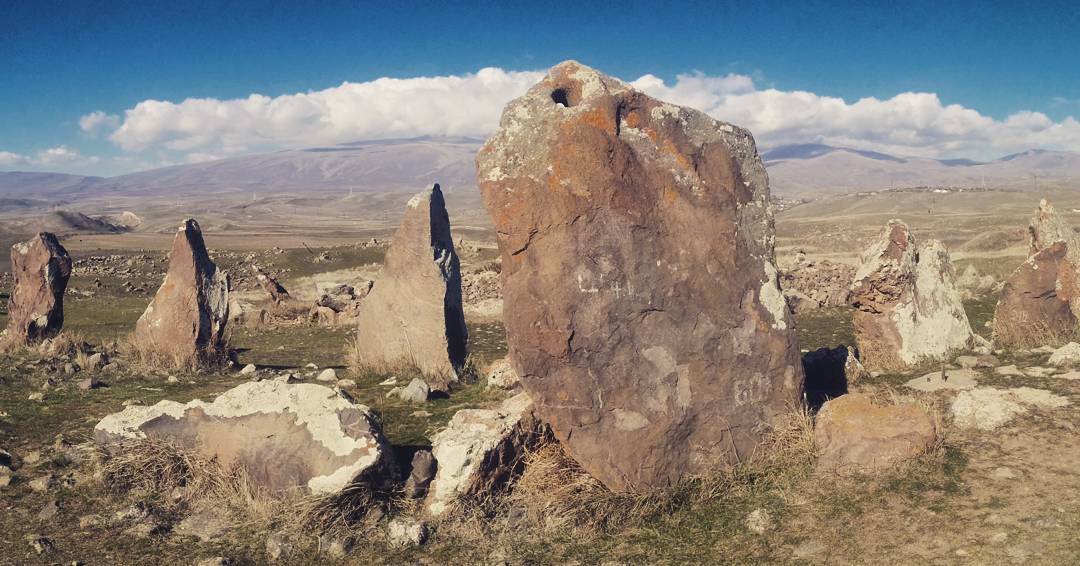 Karahunj in Armenia. Its stones are laid out to resemble the star pattern made by the Cygnus constellation (pic credit: Wiki Commons Agreement, 2016).
Before the main tour starts on June 1st there is the opportunity to visit Eastern Turkey, and see various key sites in this part of the country including Lake Van and the Urartian megalithic fortress of Cuvestepe. Even before this on May 27th-29th there is a second add-on, which will give people the opportunity to see Gobekli Tepe, Karahan Tepe, and the various sites of Sanliurfa. They include the Pools of Abraham and the archaeological museum with its fabulous reconstruction of one of the main enclosures at Gobekli Tepe, as well as the cult building of Nevali Cori, and its collection of many thousands of objects dating from the Palaeolithic age through to the Islamic age.
Please note that the two add ons to Turkey are optional and not part of the main tour, which does NOT enter Turkey at any point.
The tour includes quality hotels, most meals, entrance to sites, local flights, ground transport, English speaking guides (but does not include international flights, trip insurance, drinks and tips).
Click for full details and immediate registration using paypal or click the flyer.
October 2017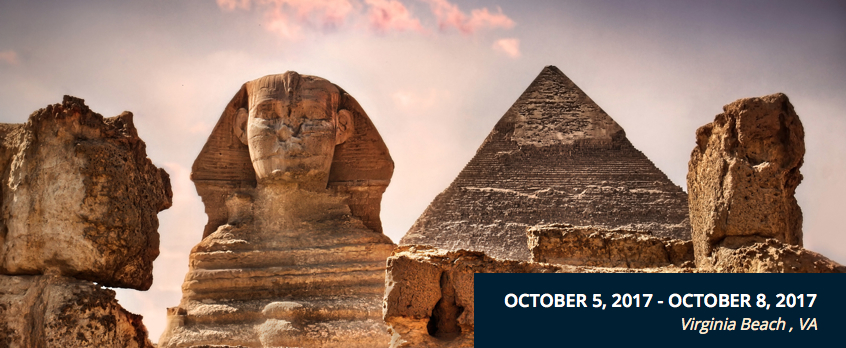 October 5, 2017-October 8, 2017 - Encounters with the Ancient Ones: Lost Technologies, Missing Connections and New Discoveries Revealed
Annual Ancient Mysteries Conference

Explore the latest discoveries in the fields of prehistory, mythology, lost civilizations, and the mystical wisdom of ancient cultures from the ancient Egyptians to Arthurian England and beyond, featuring the latest research from Erich von Däniken, Dr. Maureen Clemmons, Laird Scranton, James Vieira, John Van Auken, and more. For more information click here.

November 2017
WELCOME BACK TO THE UK'S MOST CELEBRATED ANCIENT MYSTERIES CONFERENCE
O R I G I N S s2 0 1 7
(Origins of Civilization)
Join Prof. Chandra Wickramasinghe, Gary Osborn, Jim Vieira, Hugh Newman, Andrew Collins and more for the UK's most important weekend in the ancient mysteries calendar. Listen to lectures, news and revelations, and share views and ideas with others on the great quest of discovery

The Saturday Conference will end with a focused meditation on Göbekli Tepe, the Giza Pyramids and the Origins of Civilization. Make the link between all three places in this guided vision quest with Andrew Collins
Plus Sunday Visit to British Museum
Join Andrew Collins on the Sunday for a unique visit to the British Museum to explore some of the most famous exhibits including the Rosetta Stone, Assyrian hall, Egyptian hall, Sumerian hall, Mexican room, and more ...
For full details and immediate registration click here
March 2018
Join Andrew Collins, Brien Foerster, Hugh Newman, Patricia Awyan and the Khemit School in Egypt for this major tour between March 5th and March 18th, 2018.