November 2016
Join Robert Bauval, Graham Phillips, Hugh Newman, Maria Wheatley, Andrew Collins, and from the USA special guests William Henry, and Greg and Lora Little, for one of the most extraordinary weekends of the ancient mysteries calendar year. Listen to lectures, news and revelations, and share views and ideas with others on the quest of discovery.

Plus New Sunday Conference ...

Join us on the Sunday for a day of talks and lectures from world class speakers. Appearing on stage on the Sunday morning Greg and Lora Little and in the afternoon enjoy the EarthQuest core event with Graham Phillips, Debbie Benstead-Cartwright, Caroline Wise, Richard Ward and Andrew Collins. Learn the latest news, find out how you can get actively involved in the ancient mysteries, and learn to use intuition, quantum realities and onsite investigations on your own quests of discovery.

CLICK HERE FOR FULL DETAILS AND IMMEDIATE REGISTRATION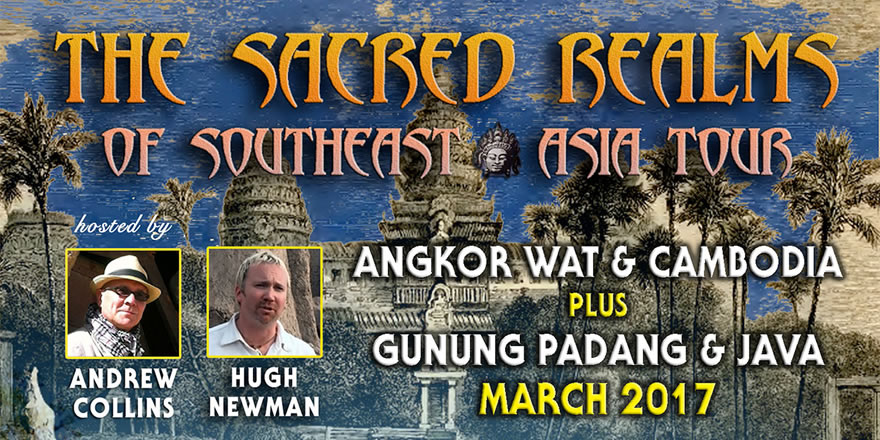 THE SACRED REALMS OF SOUTHEAST ASIA TOUR

March 17th - 31st 2017 - 15 Days

Hosted by Andrew Collins and Hugh Newman, with guest in Java, Danny Hilman


Explore the beauty of the Buddhist-Hindu Temples of Cambodia, and the 20,000 year-old pyramid hilltop site in Java that is rewriting the history books with Andrew Collins, author of Gobekli Tepe: Genesis of the Gods and many other bestselling books, along with Hugh Newman, author of Earth Grids and Giants On Record. They will be joined by expert on Gunung Padang and geologist Danny Hilman in the Java part of the tour.

Click here for full itinerary and immediate registration
May/June 2017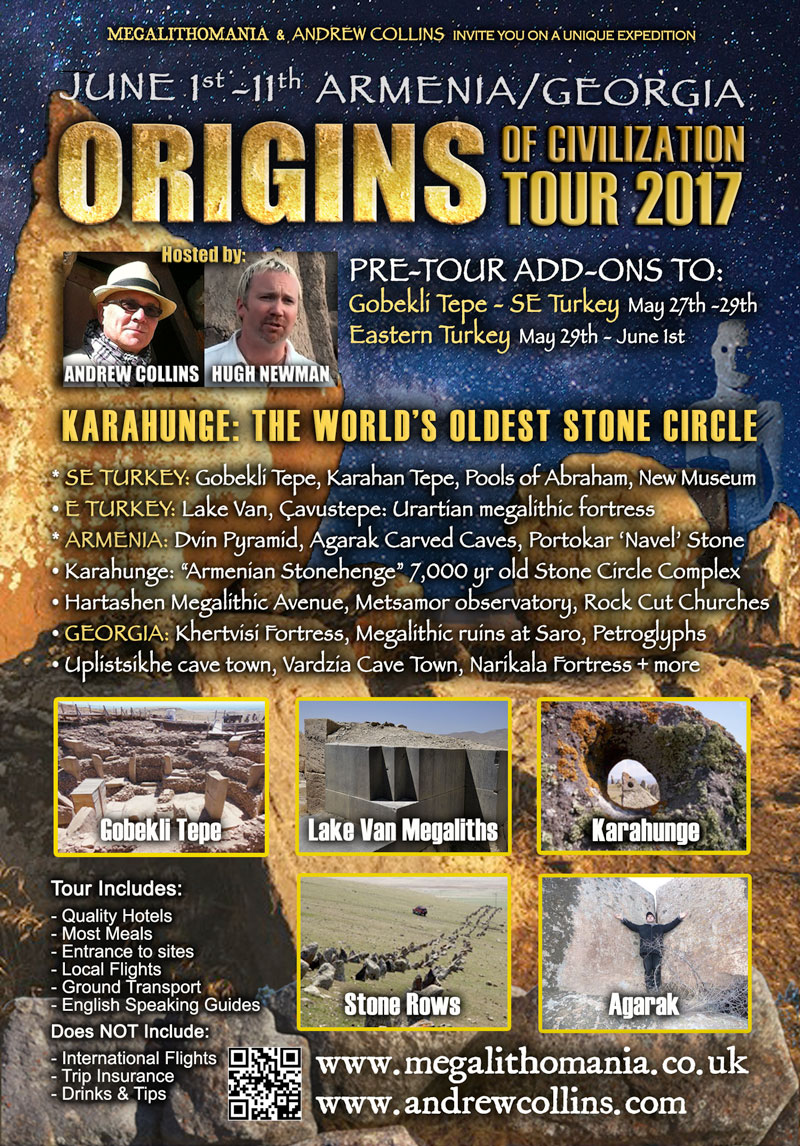 Tour Expedition to Armenia and Georgia
June 1st to June 11th 2017 Hugh Newman and Andrew Collins embark on a tour of Armenia and Georgia (with add ons to Gobekli Tepe and eastern Turkey, May 29-June 1st), which will explore the prehistoric, ancient and most sacred places of these countries.
Among the sites to be visited in Armenia are the Dvin pyramid, Agarak carved caves, Portasar "Naval" Stone, Karahunj "Armenia's Stonehenge," Hartashen megalithic avenue, Metsamor observatory and various rock cut churches. In Georgia we visit the Khervisi Fortress, megalithic ruins at Saro, Uplistsikhe cave town, Vardzia cave town, Narikala Fortress, and various other sites as well.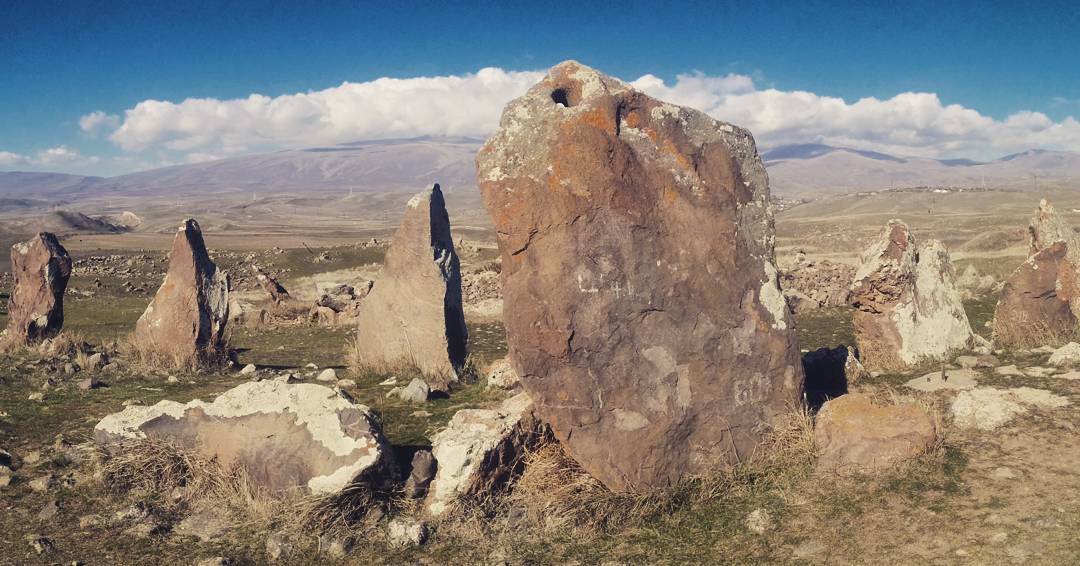 Karahunj in Armenia. Its stones are laid out to resemble the star pattern made by the Cygnus constellation (pic credit: Wiki Commons Agreement, 2016).
Before the main tour starts on June 1st there is the opportunity to visit Eastern Turkey, and see various key sites in this part of the country including Lake Van and the Urartian megalithic fortress of Cuvestepe. Even before this on May 27th-29th there is a second add-on, which will give people the opportunity to see Gobekli Tepe, Karahan Tepe, and the various sites of Sanliurfa. They include the Pools of Abraham and the archaeological museum with its fabulous reconstruction of one of the main enclosures at Gobekli Tepe, as well as the cult building of Nevali Cori, and its collection of many thousands of objects dating from the Palaeolithic age through to the Islamic age.
Please note that the two add ons to Turkey are optional and not part of the main tour, which does NOT enter Turkey at any point.
The tour includes quality hotels, most meals, entrance to sites, local flights, ground transport, English speaking guides (but does not include international flights, trip insurance, drinks and tips).
Click for full details and immediate registration using paypal or click the flyer.