Andrew Collins and dog in Gobekli Tepe's Enclosure E, also known as the Rock Temple in 2015 (pic credit: Andrew Collins/Rodney Hale).
E A R T H Q U E StTT N E W S

Andrew Collins Newsletter - July 2016
In this issue: Origins 2016 - Egypt, Cambodia & Java Tours - New Radiocarbon dates for Göbekli Tepe released confirming astronomical alignments - Jesus as the Son of the Panther and the Cult of Bacchus-Dionysus - Greg Little's New Mound Encyclopedia and the Latest on the Native American Death Journey

Hi, Hope this e-newsletter finds you well.

The tickets for Origins 2016 are selling well, so it looks like this year's event is going to be a sell out. The full line up of speakers is detailed below, and there is, for the first time, a Sunday conference with special Earthquest core event. It will be an incredible event, with much new material from all the speakers, so hopefully see you there. For more information go to:

http://www.andrewcollins.com/page/conference/conferencenews.htm

Our mini tour of Göbekli Tepe and the surrounding area planned for October has been cancelled as Gobekli Tepe will be closed for the remainder of the year whilst a new roof is put in place. Clearly, they don't want people wandering around the site with heavy cranes and lifting equipment operating, which is understandable.

Hugh Newman of Megalithomania and I will be scheduling further trips to Göbekli Tepe next year, so watch out for these.

The planned tour to Egypt scheduled for September is still going ahead, and so if you want to take a break out there, then click below for details:

http://khemitology.com/wp-content/uploads/2013/05/September-2016-Megalithomania-Tour-Itinerary-.pdf

Plus in March 2017 we have our grand tour to Cambodia and Java. If you fancy that, then all the details are below, or click on the link:

http://www.megalithomania.co.uk/sacredrealms2017.html


GÖBEKLI TEPE LATEST
In 2012 I had a conversation with Professor Klaus Schmidt, then director of excavations at Gobekli Tepe, on the age of Enclosures C and D. As we stood between the two he insisted the former was older, but I proposed it was the other way around as this was suggested by astronomical alignments favouring the star Deneb in Cygnus. Now new radiocarbon dates indicate that I was right and Enclosure D is older than its neighbour Enclosure C. The astronomical alignments towards Cygnus have already been confirmed by an Italian team, so all good with the theories right now.
https://tepetelegrams.wordpress.com/2016/06/22/how-old-ist-it-dating-gobekli-tepe/

JESUS - SON OF THE PANTHER AND THE CULT OF BACCHUS-DIONYSUS

As you are probably aware I am writing the new book. It is coming along, but writing has been slow for a number of reasons I won't trouble you with right now. And just to make life more difficult for myself I started going through some of the chapters written, and decided to ditch about 10,000 words. They simply did not relate to some of the discoveries contained in the later half of the book. Okay, that might not be a problem, but then today I decided to use some of the material to create a new article on Jesus as the son of the Panther and the cult of Bacchus-Dionysus. It is a controversial one. Read it at the link, and see more on the subject below:

http://www.andrewcollins.com/page/articles/Jesus.htm

NEW MOUND ENCYCLOPEDIA
My colleague Greg Little's newly revised encyclopedia of Native American mound sites in the USA has now been published. Here is the cover blurb:
America's incredible mound-building cultures erected the first mounds over 6500 years ago. It is believed that over 1 million mounds once existed, but today, perhaps only 100,000 remain. The ancient mounds and enormous earthworks associated with them are one of the most unappreciated archaeological treasures in the world. America has the largest and most complex formations of geometric earthworks in the world and the largest mound (near St. Louis) has a base larger than the Great Pyramid. This comprehensive text is a guidebook to mounds in 41 states and contains over 1100 site descriptions, many of which are large mound complexes with museums. The sites are arranged alphabetically by state and include Archaic, Adena, Hopewell, and Mississippian sites. It is the most comprehensive guide to America's mounds and earthworks in existence. The book includes nearly 900 photos, maps, & illustrations and has 80 site reconstructions made by archaeological illustrators. Many rare photos of stone chambers and artifacts found in excavated mounds are included. An extensive index of 2300 entries listed by state contains all site and mound names along with locations. The book is a large hardcover (8.75 x 11.25) with green and red cloth with gold foil stamping (no paper jacket). This is a revised, updated, and enhanced version of the first edition.
If you want a copy it's yours at $49.95 from Amazon:
https://www.amazon.com/Illustrated-Encyclopedia-Native-American-Earthworks/dp/0940829584/ref=sr_1_1?ie=UTF8&qid=1468346494&sr=8-1&keywords=0940829584
In addition to the release of the new mounds encyclopedia, Greg Little continues his exploration of the Native American death journey by speculating that it forms part of a worldwide phenomena that had its genesis in the Upper Palaeolithic and features key constellations associated with the Milky Way as the Path of Souls. Of course, this was something I mused upon in my 2006 book The Cygnus Mystery, which Greg acknowledges. However, I focused on Cygnus, while many of my colleagues focused on Orion, the two halves of the cosmic jigsaw. Coincidently, Rodney Hale and myself have been looking into the archaeoastronomy of a 7,500-year-old megalithic sanctuary in Israel's Negev region, which also looks like it features tantalising alignments toward Cygnus, Orion and their dual relationship to the Milky Way. More on that soon. In the meantime have a read of Greg's article, and ponder upon the unity of the cosmos and the origin of the soul.Click below to read Greg's latest article:
http://apmagazine.info/index.php?option=com_content&view=article&id=839

Until next time, have a great summer.

Best wishes,

Andrew
September 2016

ANCIENT EGYPT & BAALBEK TOUR




Full Details of Egypt & Baalbek Tour Here
November 2016
Join Robert Bauval, Graham Phillips, Hugh Newman, Maria Wheatley, Andrew Collins, and from the USA special guests William Henry, and Greg and Lora Little, for one of the most extraordinary weekends of the ancient mysteries calendar year. Listen to lectures, news and revelations, and share views and ideas with others on the quest of discovery.

Plus New Sunday Conference ...

Join us on the Sunday for a day of talks and lectures from world class speakers. Appearing on stage on the Sunday morning Greg and Lora Little and in the afternoon enjoy the EarthQuest core event with Graham Phillips, Debbie Benstead-Cartwright, Caroline Wise, Richard Ward and Andrew Collins. Learn the latest news, find out how you can get actively involved in the ancient mysteries, and learn to use intuition, quantum realities and onsite investigations on your own quests of discovery.

CLICK HERE FOR FULL DETAILS AND IMMEDIATE REGISTRATION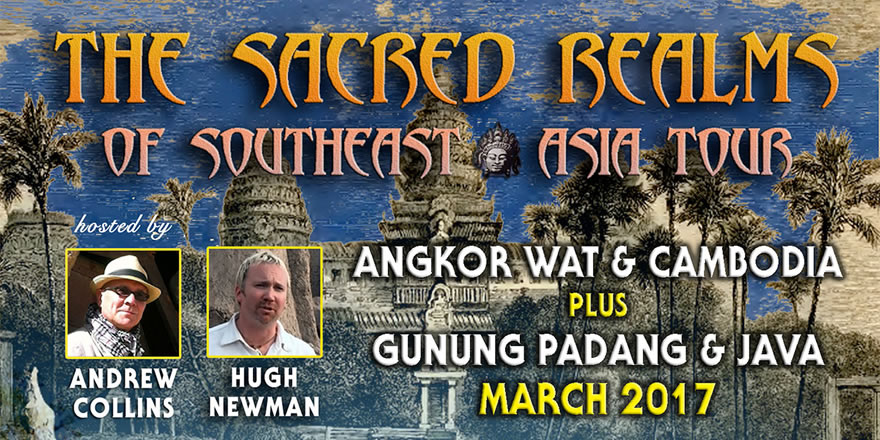 THE SACRED REALMS OF SOUTHEAST ASIA TOUR

March 17th - 31st 2017 - 15 Days

Hosted by Andrew Collins and Hugh Newman, with guest in Java, Danny Hilman


Explore the beauty of the Buddhist-Hindu Temples of Cambodia, and the 20,000 year-old pyramid hilltop site in Java that is rewriting the history books with Andrew Collins, author of Gobekli Tepe: Genesis of the Gods and many other bestselling books, along with Hugh Newman, author of Earth Grids and Giants On Record. They will be joined by expert on Gunung Padang and geologist Danny Hilman in the Java part of the tour.

Click here for full itinerary and immediate registration