ITINERARY

DAY ONE / Monday 26th of May: Guests arrive into Ankara. In the evening Orientation and "Origins of Turkish Civilization" presentation by Andrew Collins.

DAY TWO / Tuesday 27th of May: After breakfast visit Anatolian Civilization Museum of Ankara, and see artefacts and reconstructions from Neolithic sites such as Catal Hoyuk. Lunch in Ankara. After lunch drive to hotel in Hattusa. Evening presentation by one of the speakers.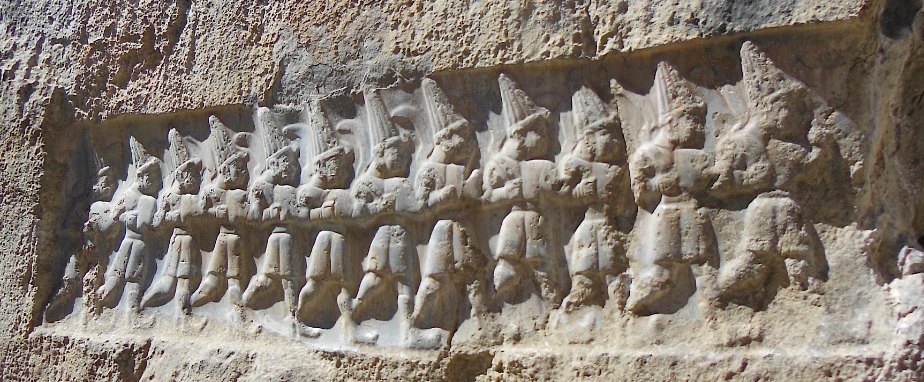 Hittite warriors at Hattusa
DAY THREE / Wednesday 28th of May: Visit the Hittite capital of Hattusa, c. 1800-1200 BC. See rock cut inscriptions and reliefs of warriors and Hittite gods in the rock sanctuary. Visit the massive city walls, Sphinx entrances, polygonal walls and polished green nephrite naval stone in the Great Temple dating from the age of the Hittite Empire (ensure time for meditation at last site). Lunch in Hattusa. After lunch journey on to the magnificent ruins of Alaca Hoyuk, a Hittite city with origins dating back to the Chalcolithic or Copper Age. Visit the museum, and see the extraordinary polygonal walls, like those in Peru, Easter Island and ancient Egypt. Drive on to Cappadocia, arriving at your hotel in Göreme, for a late dinner.

Left, stone gateway at Hattusa. Right, Hattusa's green jadeite omphalos stone.
Left, the Sphinx gateway at Alaca Hoyuk. Right, polygonal wall at Alaca Hoyuk.
DAY FOUR / Thursday 29th of May: After breakfast walk through Red Valley. Next visit Kaymakli Underground City. Lunch. Visit Uchisar natural castle and finally Goreme open air museum. Book balloon flights for first thing the following morning if required.
Left, the Red Valley, Cappadocia. Derinkiyu underground city.
DAY FIVE / Friday 30th of May: Optional early morning balloon flights (will cost 140 € payable locally). After breakfast drive to Ihlara Valley & Derinkuyu Underground City. Return to hotel for overnight.
Left, Derinkiyu underground city. Right, fairy chimneys near Goreme.
DAY SIX / Saturday 31st of May: Early morning leave Goreme for Konya. Lunch on the way to Konya or in Konya depending on time. Afterwards travel on to the Neolithic city of Catal Hoyuk, which thrived between 7500-6000 BC. Back to hotel in Konya. Dinner. In the evening see the Whirling Dervishes.
Left, rock chimneys and churches near Goreme. Right, Shamanic birdman in rock church at Goreme.
Left, Templar crosses on rock church at Goreme. Right, fairy chimneys at Goreme.
Left, the archaeological excavations at Çatal Höyük. Right, the Whirling Dervishes at Konya.
DAY SEVEN / Sunday 1st of June: After breakfast travel directly to Sanliurfa. Arrive in Urfa in the evening. Dinner in local rest.

DAY EIGHT / Monday 2nd of June: Visit the 12,000 year old stone temple of Göbekli Tepe in the morning. Free time for lunch in Sanliurfa. In the afternoon visit the ancient city of Harran, with its Astronomical Tower, Paradise Mosque, and ancient beehive hut village. Visit the local shop and café in the village. Presentation by one of the speakers.
Left, G
ö
bekli Tepe's Enclosure D. Right, Enclosure D's Vulture Stone (Pillar 43).
Left, the ruins of the Paradise Mosque, Harran. Right, beehive huts at Harran.
Left, early Neolithic statue, c. 9000 BC, in Sanliurfa's archaeological museum. Right, stone totem pole from Gobekli Tepe in Sanliurfa's archaeological museum.
DAY NINE / Tuesday 3rd of June: After breakfast visit Göbekli Tepe for a second time, this time without guidance in order to better experience the site on a personal level. Lunch. In the afternoon visit Urfa Museum to see display of artefacts from Gobekli Tepe, Nimrod's Castle, the Pools of Abraham, and the birthplace of the great prophet. Evening presentation by one of the speakers.
Left, Nimrod's Castle, Sanliurfa. Right, the pools of Abraham, Sanliurfa.

DAY TEN / Wednesday 4th of June: After breakfast travel on to the holy mountain of Nemrut Dag, but on the way stop at Karakus Tumulus and Cendere Bridge. Check into the hotel for a short rest before climbing up to site of the mausoleum of Antiochus I with its fabulous sculptures and heads, for sunset. Overnight in Hotel Euphrat in Nemrut Dag. Dinner in the Hotel.

Left and right, the mountaintop mausoluem of Antiochus I on the summit of Nemrut Dag (Mount Nimrod).
DAY ELEVEN / Thursday 5th of June: Optional trip to Mount Nemrut for sunrise with additional cost for people who want to join. After breakfast travel to Adiyaman airport. Fly back to Istanbul or Ankara for completion of tour.
Harran's Astronomical Tower

Prices are as follows:

Origins of Civilization Tour
May 26th-June 5th 2014

£2150 (or $3700)

(meet Ankara airport)

(Our travel agents will help you with booking flights to and from your point of origin)

Based on double occupancy

Single occupancy supplement: £370 (or $635)

Tour deposit: £500 ($860)

PRICE FOR FIVE-DAY EXTENSION £875 ($1510)
DEPOSIT £300 ($515)
ORIGINS OF CIVILIZATION TOUR

OPTIONAL 5-DAY EXTENSION

Thursday, June 5th - Monday, June 9th

DAY ELEVEN / Thursday 5th of June (CONTINUED) Upon arrival to Istanbul Attaturk Airport transfer to Canakkale (5 hours drive) Arrive to Iris Hotel and have dinner and an evening presentation if required. Overnight in Iris Hotel, Canakkale
DAY TWELVE / Friday 6th of June: After breakfast depart for the ancient city of Troy. the site of the great city featured in Homer's Iliad, which tells of the battle between the Greeks and Trojans following Paris's abduction of Helen of Troy. See the multi-leveled stone walls, incredible entranceways, and theatre, and also visit the tranquil oracle site with its twin wells, perhaps the site of Cassandra's Oracle. After lunch break in Assos visit the ruins of Temple of Athena , the Ancient Theatre of Assos as well as seeing the polygonal wall at Assos. Then the group will continue Pergamon which takes another 3 hour's drive. Arrive to hotel in time for dinner. Overnight in Pergamon.
Left, the theatre at Troy (Pic courtesy: Wiki Commons Agreement). Right, Temple of Athena, Assos (Pic courtesy: Wiki Commons).
| | |
| --- | --- |
| Temple of Trajan at Pergamon. | DAY THIRTEEN / Saturday 7th of June – Visit Pergamon Ancient Site. Pergamum's acropolis and Asclepion are both listed among the top 100 historical sites on the Mediterranean. Most of the buildings and monuments in Pergamum date to the time of Eumenes II (197-159 BC), including the famed library, the terrace of the spectacularly sited hillside theater, the main palace, the Altar of Zeus, and the propylaeum of the Temple of Athena. In the early Christian era, Pergamum's church was a major center of Christianity and was one of the Seven Churches of Revelation. Asclepion, Galen born & Aducated in Pergamum, was the authority of European medicine from the 2nd century until renaissance. He was the founder of the health principles of diet, relaxation, exercise. Visit the ancient hospital & health center where he worked. After lunch break continue to Manisa to see the Tomb of Tantulus and overnight in Izmir. |
NOTES Guests must be able to walk approximately 2.5 miles over uneven and cobblestone surfaces, inclines and 10 - 30 steps. Comfortable shoes, a hat and plenty of sunscreen are recommended as shade is limited. The order of the tour itinerary may vary in order to avoid congestion. Guests should watch their step at all times in order to avoid injuries.
DAY FOURTEEN / Sunday 8th of June – After breakfast visit Ephesus. Full Day Ephesus Tour. Temple of Hadrian, Trajan Fountain, Great Theatre, Shrine of Mother Mary, Temple of Diana and Terrace Houses will be visited. The group will take the late evening flight back to Istanbul. Overnight in Istanbul B-L Ephesus Tour: An Ancient Greek city, later a major Roman city, on the west coast of Asia Minor which called Ephesus, stroll past the Celsus library, the Temple Of Hadrian and the Trajan Fountain in the Ancient Ephesus. After walking on the historical marble street the Great Theatre where St. Paul preached will meet at the end. Lunch in a local Turkish restaurant. In the afternoon will visit the shrine of Mother Mary, it is believed where she spent recent years of her life. Temple Of Artemis (Diana), on the side of one of the seven wonders of ancient World.
DAY FIFTEEN / Monday 9th of June – Transfer to Istanbul airport for onward travel.



The Great Theatre at Ephesus (Pic courtesy: Wiki Commons Agreement)

PRICE FOR FIVE-DAY EXTENSION £875 ($1510)
DEPOSIT £300 ($515)
If you have any questions regarding any aspect of the tour, then contact either Andrew Collins or Hugh Newman at Megalithomania Tours, and we'll try our very best to help you.


Early indications suggest that interest in the tour will be high, so please don't delay.
To ensure your place, get on the case now.

Left, Andrew taking a break beneath the fig-mulberry tree that caps the summit of Göbekli Tepe. Right, leaping fox on a pillar in Göbekli Tepe's Enclosure B.

The Origins of Civilization Tour will coincide
with the release of Andrew Collins's book

Göbekli Tepe: Genesis of the Gods
Published by Bear and Company, Rochester, VM. May 1st, 2014
PRE-ORDER YOUR COPY NOW AND CELEBRATE WITH ANDREW AS HE REVISITS GOBEKLI TEPE, HARRAN, CATAL HOYUK AND ALL THE GREAT SITES ON THE ORIGINS OF CIVILIZATION TOUR

AMAZON.COM

For more information on Göbekli Tepe:
Göbekli Tepe's Cosmic Blueprint by Andrew Collins
Andrew defines Göbekli Tepe's cosmic blueprint, showing that it is aligned to the Milky Way's Dark Rift and the bright star Deneb in Cygnus.
One Week in Kurdistan by Andrew Collins
Andrew's epic journey in eastern Turkey in May-June 2004, visiting some of the sites that will feature in the Origins of Civilization tour in September, including Harran, Sanliurfa and Göbekli Tepe.