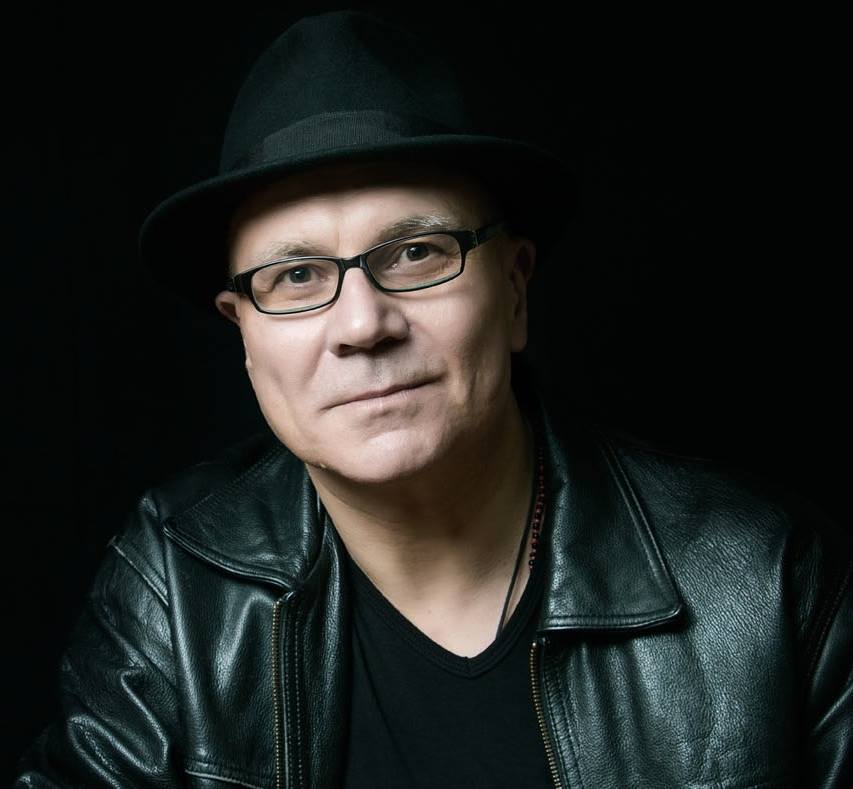 Andrew Collins (Pic credit: Shane van Troxel)
Andrew Collins was born on January 25, 1957, in Bedford, England. He is a science and history writer, and the author of books that challenge the way we perceive the past. They include From the Ashes of Angels, Gods of Eden, Gateway to Atlantis, Tutankhuman: The Exodus Conspiracy (co-authored with Chris Ogilvie Herald), The Cygnus Mystery, Göbekli Tepe: Genesis of the Gods and The Cygnus Key: The Denisovan Legacy, Göbekli Tepe and the Birth of Egypt. He lives in Leigh-on-Sea, Essex. His website is www.andrewcollins.com
Please note that there are other Andrew Collins's around the world. Do not confuse them.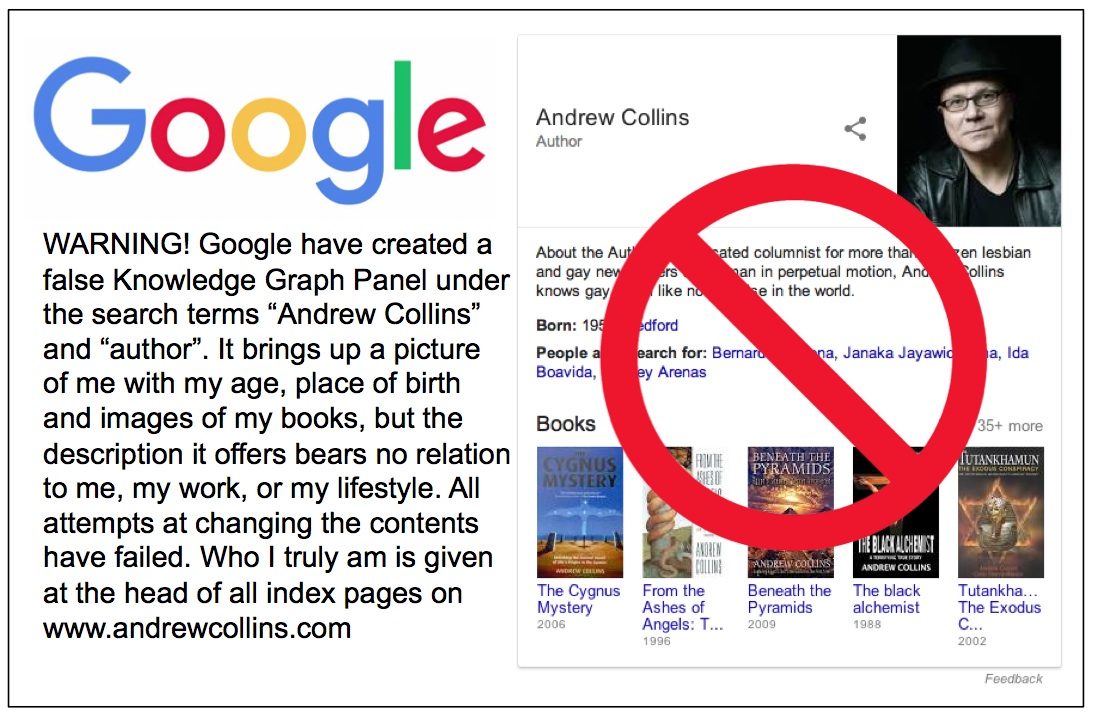 Andrew Collins in the entrance to Harran's
astronomical tower (pic: Hugh Newman)



Join Andrew Collins on one of his tours of discovery or watch out for when he comes to your town.

See side panel for brief details. Full details below

Follow Andrew on Facebook and Twitter (@AndrewBCollins) for regular updates on events and interests

EVENTS AND TOURS IN BRIEF


Mar 5-18, 2018. Join Andrew Collins, Brien Foerster, Hugh Newman, Patricia Awyan and the Khemit School in Egypt for this major tour. Click for more details.


Apl 28-30, 2018. Andrew will be one of the key-note speakers at New Living Expo, San Francisco. The event will also see the launch of his much-anticipated new book The Cygnus Key.

May 12-13, 2018. Join Andrew Collins, Robin Heath, Terence Meaden, Hugh Newman and many more at the 2018 Megalithomania conference in Glastonbury on May 12-13. This will be the first chance to find out exactly what Andrew has found out about the Denisovans and their contribution to the rise of human civilization following the release of his new book The Cygnus Key: The Denisovan Legacy, Gobekli Tepe and the Birth of Egypt.

May 13, 2018. On the Sunday of the Megalithomania conference, May 13, Andrew has a launch for his book The Cygnus Key at Glastonbury's Happy Glastonbury gift and book store. Starts at 2pm. Two small talks will be given. One on Gobekli Tepe and the other on the book itself. Token payment of GBP 2 is required. Refreshments will be available. Click here to book via Stripe or PayPal.

September 15/16, 2018. Andrew will be speaking at the 6th International UFO Truth Conference at Holmfirth, West Yorkshire, on September 15/16, 2018, alongside Brien Foerster, Alan Godfrey, Don Schmitt, and many others. For more info and registration click here.

October 13/23, 2018. Join Andrew, Hugh Newman and J J Ainsworth as they return to Gobekli Tepe on a new 11-day tour of Turkey, visiting sites a whole hosts of sites including the underground cities of Cappadocia, the Hittities sites of Hattusha and Alaca Hoyuk, the Neolithic sity of Catal Hoyuk, the Sabaean city of Harran, and also the sites of Sanliurfa. The event is organised by Megalithomania in concert with British tour company Travel the Unknown. Click for more information and immediate registration.

July 2019. Join Andrew Collins and Hugh Newman of Megalithomania on a grand tour of Siberia - the true cradle of Civilization and land of the Denisovans. Click here for further details.
CHECK OUT ALL BOOKS BY ANDREW COLLINS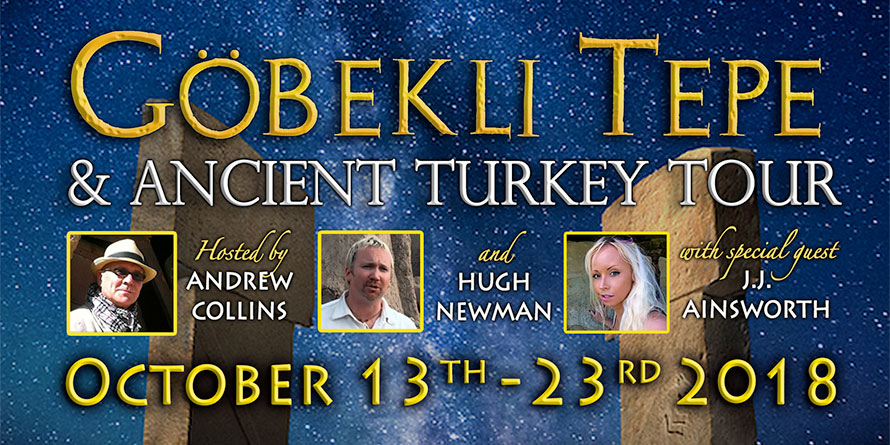 * News from Andrew Collins - February 2018 *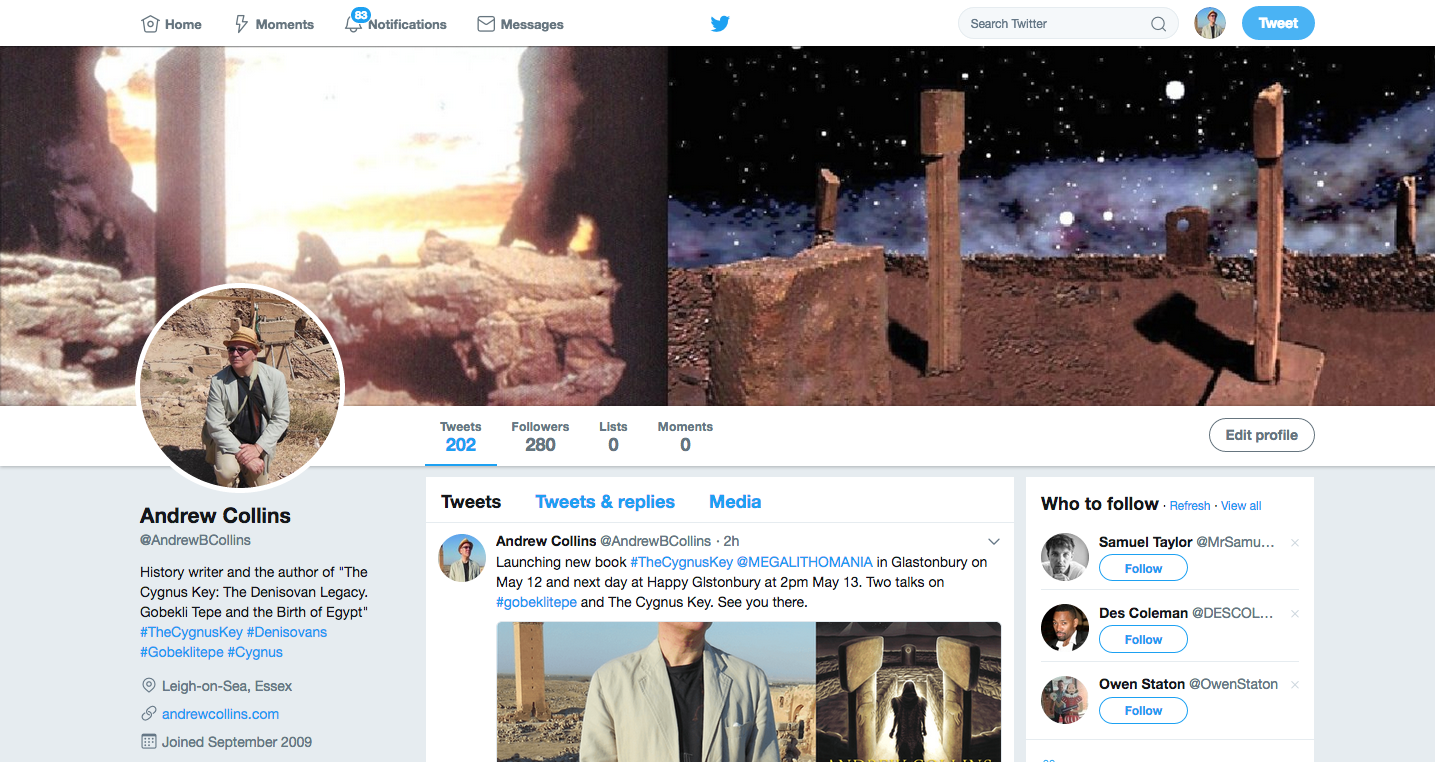 Andrew's Twitter page

Follow Andrew on Facebook and Twitter (@AndrewBCollins) for regular updates on events and interests. Important announcement about Egypt in connection with new material in Andrew's book The Cygnus Key will be announced in March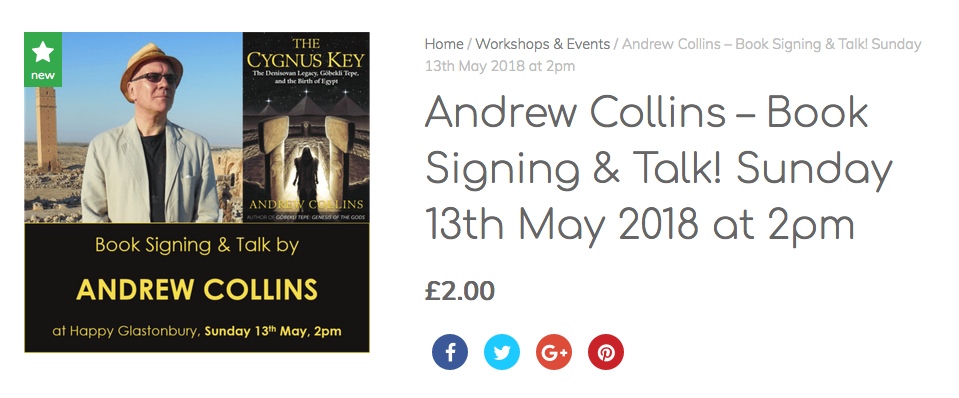 Andrew will be presenting a key-note lecture on new book The Cygnus Key at this year's Megalithomania conference in Glastonbury on on Saturday, May 12. The next day, Sunday, 13th at 2pm he has a book launch event over the road at the Happy Glastonbury gift and book store.
Admission is a token GBP 2 with refreshments available.

For more info and payment by Stripe or Paypal: http://www.happyglastonbury.co.uk/product/andrew-collins-event/

Andrew will present an alternative talk on both The Cygnus Key and also Gobekli Tepe in general.
There is a blog on the subject here: http://www.happyglastonbury.co.uk/andrew-collins-book-signing-talk-sunday-13th-may-2018/
See also the facebook event page at: Here is the facebook event page: https://www.facebook.com/events/837929249728546/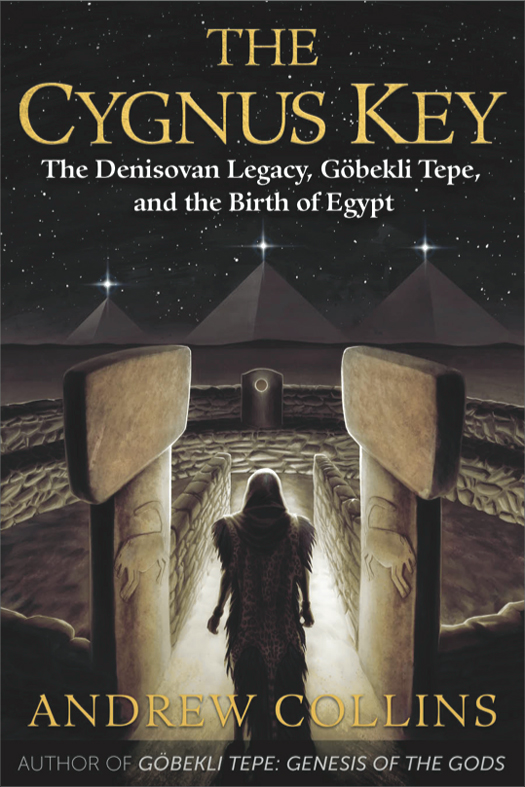 Soul of the World:
The Sweet Swans of Maeonia
A Prelude to The Cygnus Key: The Denisovan Legacy, Gobekli Tepe and the Birth of Egypt by Andrew Collins
The swan was seen as the most musical of birds associated with the god Apollo, god of music and poetry, with Orpheus, the first mortal poet, and also with the Muses, the nymphs that inspire divine inspiration in mortal kind. Find out how this bird became a key symbol in the expression of the cosmic dance of life through its association with the Soul of the World
(And for those with knowledge of the Green Stone story from 1979, the historical origins behind the usage of the word "Meonia," revealed for the first time)

THE NEW BOOK FROM ANDREW COLLINS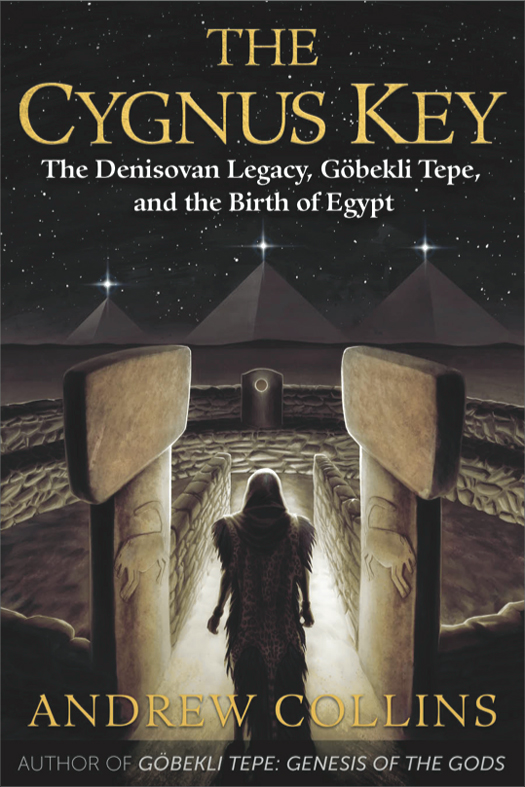 The cover of Andrew Collins's new book The Cygnus Key: Göbekli Tepe and the Birth of Egypt.
Cover artwork by Russell Hossain

In the 2000s human fossil remains were unearthed in the Denisova Cave within the Altai Mountains of southern Siberia. DNA testing showed that the bones - two molars and a pinky bone - belonged to a previously unknown human population today known as the Denisovans. They are now thought to have inhabited Eastern Eurasia from around 400,000 years down to around 40,000 years ago. During their final years the Denisovans achieved an advanced level of human behaviour, including the creation of sophisticated symbolic or non-functional objects including an arm bracelet in bottle-green chloritolite with a bored hole that can only have been made using a high-speed drill; a bone needle with an eye for thread, suggesting the manufacture of tailored clothing, as well as finely finished, pierced ostrich eggshell beads no more than a centimetre in diameter. In addition to this, fragments of horse bones found inside the Denisova Cave have suggested that Denisovans domesticated, herded and maybe even rode horses long before it was thought humanly possible. So who exactly were the Denisovans? What do we really know about them, and how are they linked to Neanderthals and our own ancestors?

The Cygnus Key presents compelling evidence showing that the earliest origins of human culture, religion, and technology derive from the Denisovans, the true creators of the lost civilization long known to exist but never before proved.

Denisovan bracelet made of chlorite that is around 70,000 years old (credit: The Siberian Times).
The author explains how the stars of Cygnus coincided with the turning point of the heavens at the moment the Denisovan legacy was handed to the first human societies in southern Siberia some 45,000 years ago, catalyzing beliefs in swan ancestry and an understanding of Cygnus as the source of cosmic creation. It also led to powerful ideas involving the Milky Way's Dark Rift, viewed as the Path of Souls and the sky-road shamans travel to reach the sky-world. He explores how their sound technology and ancient cosmologies were carried into the West, flowering first at Gobekli Tepe and later in Egypt's Nile Valley. Collins shows how the ancient belief in Cygnus as the source of creation can also be found in many other cultures around the world, further confirming the role played by the Denisovan legacy in the genesis of human civilization.

Built at the end of the last ice age around 9600 BCE, Gobekli Tepe in southeast Turkey was designed to align with the constellation of Cygnus, the celestial swan, a fact confirmed by the discovery at the site of a tiny bone plaque carved with the three key stars of Cygnus. Remarkably, the three main pyramids at Giza in Egypt, including the Great Pyramid, align with the same three stars. But where did this ancient veneration of Cygnus come from?

Showing that Cygnus was once seen as a portal to the sky-world, Andrew Collins reveals how, at both sites, the attention toward this star group is linked with sound acoustics and the use of musical intervals "discovered" thousands of years later by the Greek mathematician Pythagoras. Collins traces these ideas as well as early advances in human technology and cosmology back to the Altai-Sayan region of Russian Siberia, where the Denisovans gifted humanity with the rudiments of civilization as much as 45,000 years ago.

Publication Month: May 2018
Bear & Company. ISBN 978-1-59143-299-9 $24.00
Paper. Also available as an ebook
Size: 464 pages, 6 5/8 x 9 1/2 inches
Includes 16-page color insert and 75 black-and-white illustrations

Pre-order your copy now

Join Andrew Collins, David Weatherly, Rosemary Ellen Guiley and UFO expert Nick Redfern on the Ancient Mysteries Cruise IV between October 1-6 organised by Holiday Maker Travel starting in Vancouver Island, Canada, and finishing in Los Angeles, California, USA. More info www.ancientaliencruise.com

Andrew Collins at Origins 2017 (pic credit: Alvin Krishan Askoolum)

E A R T H Q U E StTT N E W S
ANDREW COLLINS NEWSLETTER - DECEMBER 2017

In this issue: Update on new book The Cygnus Key. The latest on Tabby's Star. Plus Gobekli Tepe is the Garden of Eden new documentary claims (is it? yawn), while another says it is a pagan shrine smashed up by Abraham! Read also about the 8,600 year old bear statuette found at a mound complex in Turkey and the discovery of a 30,000-year-old settlement in Brazil.

Click for all books by Andrew Collins
from Inner Traditions

JOIN ANDREW COLLINS AT

NEW LIVING EXPO

BEING HELD AT SAN FRANCISCO'S SAN MATEO EVENT CENTER

APRIL 28-30, 2018

FOR THE LAUNCH OF ANDREW COLLINS'S NEW BOOK
THE CYGNUS KEY: THE DENISOVAN LEGACY, GÖBEKLI TEPE AND THE BIRTH OF EGYPT


Andrew will present stunning new evidence that the source of the Lost Civilization long known to have existed in the antediluvian age was the Denisovans. Hear how their legacy, handed to the first modern humans to reach southern Siberia some 45,000 years ago, catalysed the rise of our own civilization, which flowered eventually at Gobekli Tepe in southeast Anatolia and Giza in northern Egypt.
Learn how the common thread to the cosmological notions that spread out with the Denisovan legacy was the belief that humanity's cosmic origins were to be looked for in the area of sky marked by the stars of Cygnus, the celestial swan. From these ideas came the original belief that the progenitor of so many tribes, clans and ancient societies was a swan ancestor, a swan maiden, a concept now known to date back to Palaeolithic times and to have arisen originally in what is today southern Siberia.
Click here for more information on THE CYGNUS KEY
* S O L D O U T *
WELCOME BACK TO THE UK'S MOST CELEBRATED ANCIENT MYSTERIES CONFERENCE
O R I G I N S s2 0 1 7
(Origins of Civilization)
* THIS EVENT IS COMPLETELY SOLD OUT
NO FURTHER TICKETS AVAILABLE FOR THE SATURDAY OR SUNDAY *
Join Michael Cremo, Lynn Picknett & Clive Prince, Alan Butler, Jim Vieira, Hugh Newman, and Andrew Collins for the UK's most important weekend in the ancient mysteries calendar. Listen to lectures, news and revelations, and share views and ideas with others on the great quest of discovery

The Saturday Conference will end with a focused meditation on Göbekli Tepe, the Giza Pyramids and the Origins of Civilization. Make the link between all three places in this guided vision quest with Andrew Collins
Sunday Visit to British Museum
* S O L D O U T *
Join Andrew Collins on the Sunday for a unique visit to the British Museum to explore some of the most famous exhibits including the Rosetta Stone, Assyrian hall, Egyptian hall, Sumerian hall, Mexican room, and more ...
For full details and immediate registration click here
At the Tabby's Star Poker Game - Who's Bluffing?

Wednesday, 30 August 2017. This week various new papers have appeared concerning Tabby's Star (KIC 8462852). Find out what's happening in connection with the star, and where this leaves us regarding the cause of its short-termk and long-term light dimming episodes.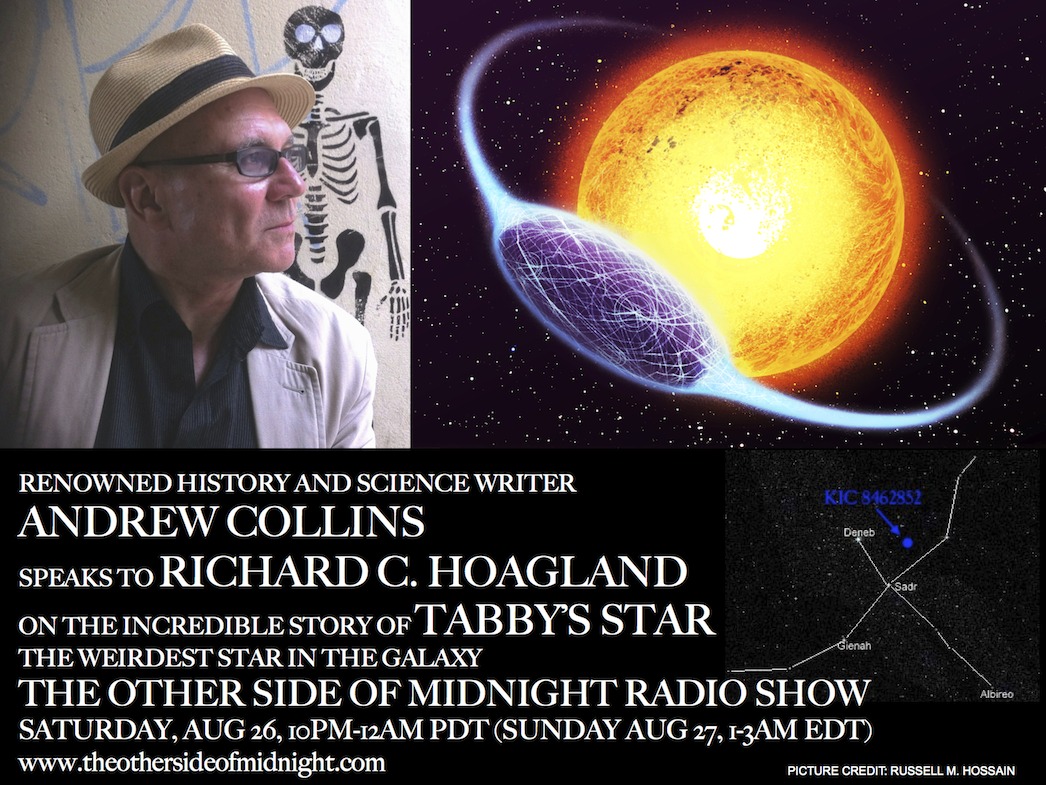 Andrew Collins talks all things Tabby's Star on The Other Side of Midnight Radio Show with Richard C. Hoagland on Saturday, August 26, 10pm-12am PDT (Sunday, August 27, 1-3am EDT).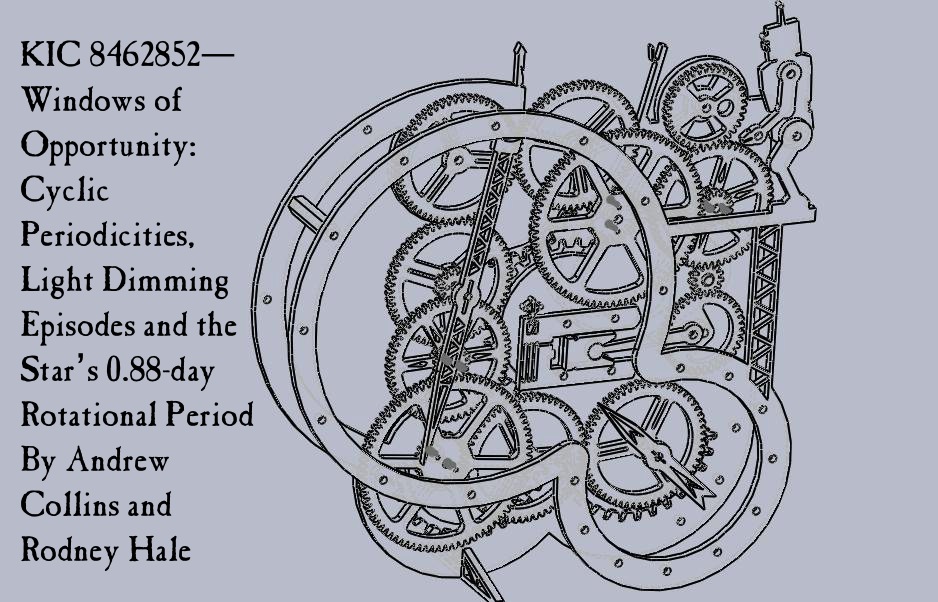 KIC 8462852 - Windows of Opportunity: Cyclic Periodicities, Light Dimming Episodes and the Star's 0.88-day Rotational Period
A new study by science and history writer Andrew Collins and engineer Rodney Hale
KIC8462862, an F-type main sequence star in the constellation of Cygnus, experienced strange light dimming episodes during the initial Kepler mission between 2009 and 2013. These continue with further events in 2017. The authors use Kepler and post-Kepler data to create folding plotsto examine the relationship between the star's reported 0.88-day rotational period and suspected periodicities noted in connection with the light dimming episodes. This reveals anew possible periodicity of 9.68 days (11 stellar rotations). Confirmation of a mathematical relationship between suspected periodicities and the star's rotational period would begin to eliminate some of the proposed explanations for the star's strange fluctuations in light, while at the same time bringing to the fore other possible theories to account for both the short term and long-term dimming events.
16 pages. Many illustrations. Released August 23, 2017.
Available now from
and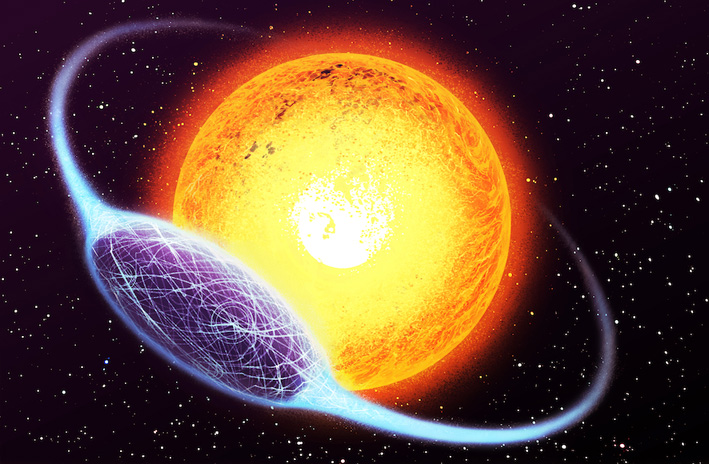 Artist's impression of the occulting object that passed in front of KIC 8462852 on Kepler Day 792 (Copyright: Russell M. Hossain, July 2017)

KIC 8462852- The Incredible Story of Tabby's Star and the Growing Mystery of its Cyclic Light Patterns

By Andrew Collins and Rodney Hale

FULLY UPDATED WITH NEW ILLUSTRATIONS
Andrew Collins and British chartered engineer Rodney Hale have worked together to determine the physical modelling of the occulting objects respionsible for the massive light dips reported during the Kepler mission in connection with KIC 8462862, an F-type main sequence star in the constellation of Cygnus. They determine their line of sight profile, and through this their nature and appearance. The Kepler data for KIC 8462852 is also re-examined to better understand the 0.88-day and 48.4-day periodicities noted in connection with the star. These reveal cyclic patterns suggesting that the prediction of future light dipping episodes might be possible, as well as recurring number sequences that contain mathematical patterns that highlight the number 11 and synchronize with the earth's own calendar cycle in a unique manner. Collins and Hale speculate that these mathematical patterns could be what French astronomer Luc Arnold in a paper published in 2005 called attention-grabbing signals deriving from an extraterrestrial intelligence.
Download a PDF of the original paper by Andrew Collins and Rodney Hale entitled KIC 8462852—Physical Modelling of its Occulting Objects and the Growing Mystery Surrounding its Cyclic Fluctuations: A New Assessment" published on viXra in June 2017:
The paper and its findings feature in John Michael Godier's video update on the star for June 06, 2017. On the matter he says:
"I must admit I hope it is just coincidence because this would imply that an alien civilization over 1,300 light years away knows that Earth is habitable, has the right atmosphere in the mix for intelligent life to develop, have calculated our orbit, and are sending a visual message to us just in case we're here. I guess that's not all that different from the idea of an alien civilization beaming a radio signal towards us, one of the things that SETI searches for. And I really think it's just the star rotating and its all coincidence, but its interesting nonetheless, and a bit creepy. What a weird star."
ANDREW COLLINS NEWSLETTER - JUNE 2017

In this issue: KIC 8462852 BACK IN THE NEWS - DNA OF THE ANCIENT EGYPTIANS - DATES FOR LONG DISTANCE TRADE IN OBSIDIAN IN ANATOLIA AND THE LEVANT PUSHED BACK BY NEW FINDINGS - NEW DISCOVERIES AT TIWANAKU, BOLIVIA - NATIVE AMERICAN MOUNDS IN ALABAMA: AN ILLUSTRATED GUIDE TO PUBLIC SITES - PERUVIAN CULTURE GOING BACK 15,000 YEARS SMASHES THE CLOVIS FIRST THEORY ONCE AGAIN - HUMAN ANCESTORS AROUND IN EUROPE AS EARLY AS 7.2 MILLION YEARS AGO - SEVEN REASONS TO GO TO ORIGINS 2017 - EGYPT TOUR IN 2018


Göbekli Tepe's Pillar 43. Does it show a comet impact or the journey of the soul?

GÖBEKLI TEPE'S PILLAR 43:
AN ASTRONOMICAL INTERPRETATION

Andrew Collins and Rodney Hale

No feature at Göbekli Tepe has aroused more interest than Enclosure D's Pillar 43, popularly known as the "Vulture Stone." Just recently it has become the focus of worldwide attention with claims in a peer-reviewed paper that its relief imagery is a detailed snapshot of the night sky on the day in 10,950 BCE when the earth was devastated by a comet impact. Although finding favour among science journalists, these ideas have received a cold reception from the archaeological team responsible for excavations at the site. So what is really being conveyed by the pillar's compelling imagery, created as much as 11,500 years ago? Does it really show the moment of a comet impact, or could there be a far more realistic solution to this baffling mystery?
Ancient mysteries writer Andrew Collins and chartered engineer Rodney Hale take a fresh look at this subject, realising the key to understanding Pillar 43's astronomical nature is the ball over the left wing of the principal vulture among the carved relief. Almost certainly it represents the northern celestial pole, long seen in shamanic tradition as the "hole in the sky" through which human souls could access the Upper World. With this knowledge, it becomes clear that the pillar's carved relief is a multi-layered signboard created to aid the soul's journey from its physical environment to the land of the dead.

Have Andrew Collins and Rodney Hale finally found the key to unravelling this enigma?
Read this stunning new article and decide for yourself

ANDREW COLLINS NEWSLETTER - MAY 2017

In this issue: MORE ON GOBEKLI TEPE'S VULTURE STONE * THE CYGNUS KEY COVER * MICHAEL CREMO CONFIRMED FOR ORIGINS 2017 * MICHAEL CREMO CONFIRMED FOR ORIGINS 2017 * PYRAMID TRIALS * EGYPT TOUR 2018

Göbekli Tepe's Pillar 43, a.k.a. The Vulture Stone (pic credit: Andrew Collins).
GÖBEKLI TEPE'S VULTURE STONE: A WARNING ACROSS TIME OR SIGNPOST TO THE LAND OF THE DEAD?
SOME ASTRONOMICAL CONSIDERATIONS AT GÖBEKLI TEPE
By Andrew Collins
A new theory claims that Göbekli Tepe's Vulture Stone (Pillar 43) is a snapshot of the sky in 10,950 BC showing the date and time of a comet impact. It interprets the stone's prominent carving of a vulture as the constellation Sagittarius, something championed by Graham Hancock in Magicians of the Gods. As this article is written by academics and published in a scholarly journal its sensationalist and somewhat far-fetched claims have been picked up on by the international media, and even The New Scientist" magazine. Yet are they correct? Is it even right to interpret the imagery in this way? In this new article Andrew Collins puts into perspective what we know about the carved imagery of Göbekli Tepe's Pillar 43, showing that it more likely relates to early Neolithic beliefs and practices concerning the soul's journey from the earthly plane to the sky-world - a view held also by leading archaeologists working at the site.
The Andrew Collins Newsletter - April 2017

In this newsletter: Details of the Origins 2017 Conference - News of Andrew's new book including its stunning cover artwork - Denisovans as the Source of a Lost Civilization - Swiderian Point found at Orkney's Ring of Brodgar complex; New Articles on Gobekli Tepe featuring the inscribed bone plaque, a new porthole stone northwest of Enclosure B, and anti Garden of Eden diatribe; News on the fabulous Contact in the Desert conference in May where the speakers will include legendary UFO writer Jacques Vallee.


AVAILABLE NOW ...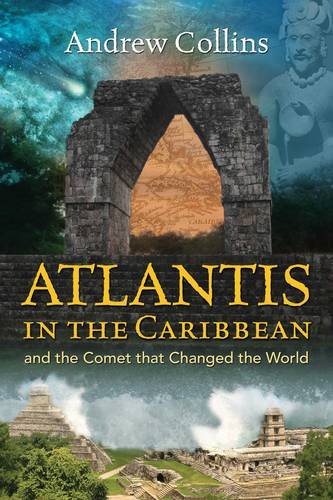 ATLANTIS IN THE CARIBBEAN
AND THE COMET THAT CHANGED THE WORLD
THE NEW BOOK FROM
ANDREW COLLINS
An in-depth investigation of the mounting evidence that Atlantis was located in the Bahamas and Caribbean, near Cuba in particular
• Explains how Atlantis was destroyed by a comet, the same comet that formed the mysterious Carolina Bays
• Reveals evidence of complex urban ruins off the coasts of Cuba and the Bahamas
• Shows how pre-Columbian mariners visited the Caribbean and brought back stories of Atlantis's destruction
• Compares Plato's account with ancient legends from the indigenous people of North and South America, such as the Maya, the Quiché, and the Yuchi of Oklahoma
CLICK FOR FURTHER INFORMATION
(Published by Inner Traditions, September 29, 2016)
CLICK TO ORDER NOW
Read more about Atlantis in the Caribbean:
THE SEARCH FOR ATLANTIS IN CUBA